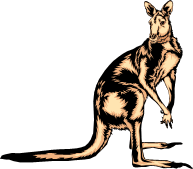 Marsupial Quotes


"Like dogs in a wheel, birds in a cage, or squirrels in a chain, ambitious men still climb and climb, with great labor, and incessant anxiety, but never reach the top."
- Robert Burton

"Squirrels run when a Jeep arrives"
- Henock

"Here Skugg Lies
Snug As a bug
In a rug."
- Benjamin Franklin An epitaph for a squirrel, 'skugg' being a dialect name for the animal

Just-So Stories "Sing-Song of Old Man Kangaroo"
Old Man Kangaroo first,
Yellow-Dog Dingo behind.
- Rudyard Kipling

"Elephants never forget, but you seldom see a kangaroo with a zipper."
- Unknown





Which One Wins A Prize?


© 2001 - present. Australian Media Pty Ltd. All Rights Reserved.
Please read our Legal Statement and Privacy Policy.